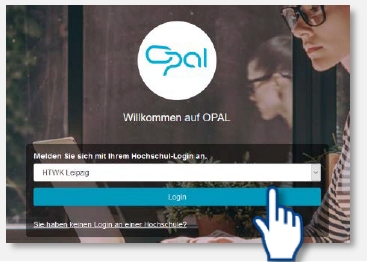 Loginwith your university credentials on bildungsportal.sachsen.de/opal/. Choose
HTWK Leipzig
as your institution and click on
Login
. When you sign in to OPAL for the first time, you must accept the data protection conditions and site policy.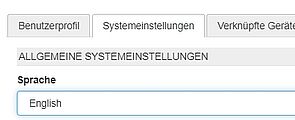 To switch the language, click on Einstellungen on the top right side. You can then select English and click on Speichern.

On the home page, click on the portlet My Institution to select your faculty. The catalogue tab opens, where you can find the courses sorted by study programs and semesters.

A course is a virtual space, that can be used for the purpose of teaching, communicating and working together. In this way, seminars, lectures and trainings can be perfectly complemented.
Favourites
You can add frequently used courses to your favourites for faster access.
Click on the star in the upper bar of the course. Your favouriteswill then appear on the start page.

You must first enrolin a course to access its content. You will find the corresponding menu item in the left navigation bar of the course.
When you enrolin a course, you will be assigned to a group within that course. These groups are mainly used to manage course participants.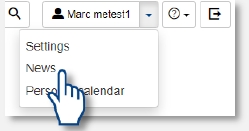 You can click on subscribe to stay up to date on your folders and messages. You will receive a message on your HTWK email address if there are any news.
You can access and manage your subscriptions via the News menu.